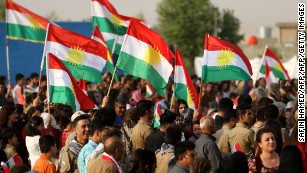 Kurdistan citizens
Iraqi
Kurds have voted overwhelmingly in favor of declaring independence from
Iraq in a historic and controversial referendum that could have wide-ranging implications for the Middle East.
The
official result, announced by the Kurdish electoral commission on
Wednesday, represents a step towards independence for the
semi-autonomous region in northern Iraq and areas it claims, and puts
Kurdish authorities on a collision course with their counterparts in
Baghdad.
The poll took place on Monday despite vehement opposition from the Iraqi government, which described the poll as unconstitutional and has authorized use of force against Iraqi Kurdistan.
On
Wednesday, Iraqi Prime Minister Haider al-Abadi called for the
referendum to be annulled and for the Kurdistan Regional Government
(KRG) to engage in dialogue as guided by the constitution. His comments
come a day after he ordered the Kurds to yield control of their airports
to the central government by Friday.
The
KRG, however, says the referendum will give it a mandate for talks to
secede from Iraq, although Baghdad has already ruled out such talks.
The
vote was held across the autonomous region and in disputed territories,
including the oil-rich city of Kirkuk, a flashpoint city claimed by
both sides.
Nearly all
neighboring regional powers objected to the referendum, warning that
independence could further destabilize the region.
On Tuesday, KRG President Masoud Barzani hailed the preliminary results and urged the world to "respect the will of the people of Kurdistan."
"Let's engage in a serious dialogue and become good neighbors," Barzani said during a televised speech.
CNN