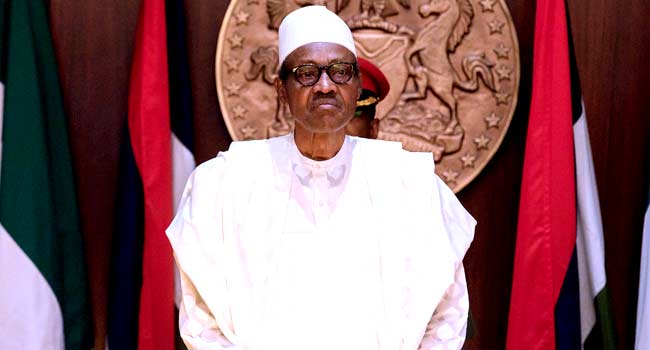 File photo
President Muhammadu Buhari reiterated his commitment to securing the release of all Nigerians in the custody of the Boko Haram terrorist group.
He said this in a series of tweets on Monday after receiving the University of Maiduguri lecturers and 10 women who regained freedom from the insurgents in Abuja, the nation's capital.
Excited Buhari said: "I can't fully express the joy I felt I this afternoon, as I received our citizens recently released from Boko Haram captivity — fathers, mothers, sons, daughters."
"We will go to any length to ensure that no one is left behind in the hands of terrorists. Every Nigerian life matters!
"There were the University of Maiduguri lecturers, abducted while on service to their fatherland, and also the women abducted from a funeral procession. Today they are safely back home, and Nigeria rejoices with them and with their families," he added.
President Muhammadu Buhari speaks to the freed University of Maiduguri lecturers on Monday at the State House in Abuja
Giving an update on his meeting with the academics, the President said they told him that they had given up all hope of ever coming back alive.
He, however, assured them that the Federal Government would never give up on any of its citizens, as the life of every Nigeria is valued.
President Buhari further revealed that he has directed the security agencies to ensure the safe release of every abducted person, including the students of the Government Girls Science Technical College (GGSTC), Dapchi, kidnapped by suspected terrorists on Monday last week in Yobe State.
He met with the freed Boko Haram victims barely 24 hours after the Minister of Information and Culture, Mr Lai Mohammed, confirmed that 110 girls were abducted by the insurgents.
"The total register of students that came to school on that Monday was 906 but as of today, 110 of them cannot be accounted for, and that is the situation," the minister told reporters in Yobe on Sunday after meeting with the state governor, Ibrahim Gaidam, and other key stakeholders. (Channels)